Hand Pumps
India-Mark-II Deep Well Hand Pumps
We specialize in providing a gamut of Deep Well Hand Pumps IS 15500-2004 India Mark II D.W.H.P that are suitable for lifting water from deep set bore holes covering static water level (SWL) that ranges from 20 meters to 40 meters. This is ideal for installation on bore well/casing size having a minimum diameter of 100 mm nominal bore size.
Further, using a telescopic stand assembly instead of normal stand, the same pump can be mounted on a 150 mm nominal bore well size or as per customer specific choice.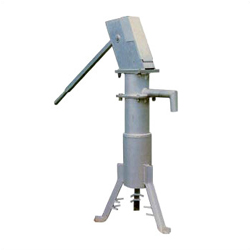 Set of hand pump assembly consists of:
Stand assembly normal
Option-telescopic stand assembly
Set of hex bolts and buts
Riser pipe 32mm (1.1/4) NB with socket (10)
Water tank assembly with 32mm NB (1-1/4") riser pipe holder
Connecting rod MS Elec, galvanized (10) Option-stainless steel connecting rods (10)
Cylinder assembly
Pump head H.D. galvanized
Handle assembly fixed with bearings (2)
Chain with coupler assembly
Third plate (intermediate flange)
Technical information:
Cylinder body top/bot, caps, CI, body fixed with brass liner
Stroke Length - 125 /-4mm
Discharge Min. 15 liters for 40 continuous strokes per minute
Riser pipe mild steel hot dip galvanized both ends threaded one end provided with socket
Cylinder plunger & check valve parts are of bronze cast & machined to close tolerance
Complete above ground mechanism hot dip galvanized to resist corrosion
Connecting rod length 3000mm (effective)
All rubber parts - nitrile rubber
Afridev Deep Well Hand Pumps
With the experience acquired by UNICEF in association with UNDP, World Bank water and Sanitation Program in partnership with hand pump field workers and developmental organizations, it has designed the afridev deep well hand pump that has become a choice in number of countries across Africa and Asia.
We offer a range of Afridev Deep Well Hand Pumps, which is ideal for lifting water from depths of 10 meters to 45 meters and is suitable for bore holes that have casing sizes of 100 mm 115mm, 127mm, 150mm or 200mm internal diameter.
Note: If the hand pump is used for dug wells, then the suitable provision must be made for location, the rising mains and to modify the suction pipe if required.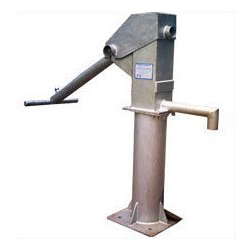 A concise description of the pump sub-assemblies and components are as under.
Components:
Pump head
Handle front
Handle rear
Rod hanger
Rod hanger pin
Fulcrum pin
Bearing bushes inner & outer with cover
Assemblies:
Steel cone plate assembly with compression rubber cone
Rod centralisers (10 Nos.) Riser pipe centralizer (10 Nos.), polypropylene rope, fishing tool, m16 socket spanner, 2 Nos. of double ended spanners 17/18
Stroke Length: 225/-3mm
Stand assembly ( with different options)
Discharge - 16.5 Litres for 40 continuous strokes per minute
Cylinder assembly with suction pipe
Pump rods ( eye & hock type) set (9 1)
UPVC rising mains (10 Nos.)